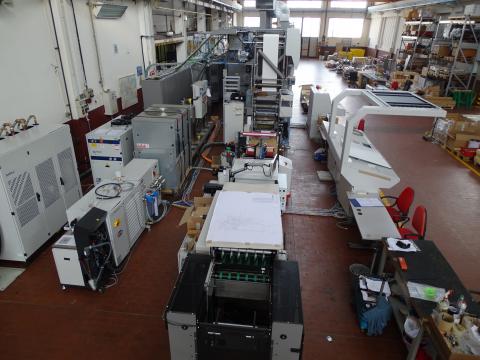 Come and experience firsthand an exciting new security printing press being produced by Goebel. 
This spring Goebel will deliver a new security printing machine to an Asian customer. 
This machine is been built in cooperation with Bobst and is being assembled at a Bobst facility in, Italy. It is a hybrid printing line, being able to combine gravure printing with offset, letterset, silk screen and flexo printing for security printing applications, i.e. postage stamps, tax labels, and other security printing documents. 
 
It is a dedicated security printing line with 7 gravure units and 1 multi process unit for offset, letterset, flexo and silk screen printing and a sheeter and stacker, including a 100% inspection system from ISRA VISION. Later at customer site a perforating unit will be integrated and a movable rewinder will be added. 
In the week of May 9-13th we are planning a one-day event in Piacenza Italy.  If you are interested in attending this event, please register by signing up here.
Mitteilung vom
18. March 2022