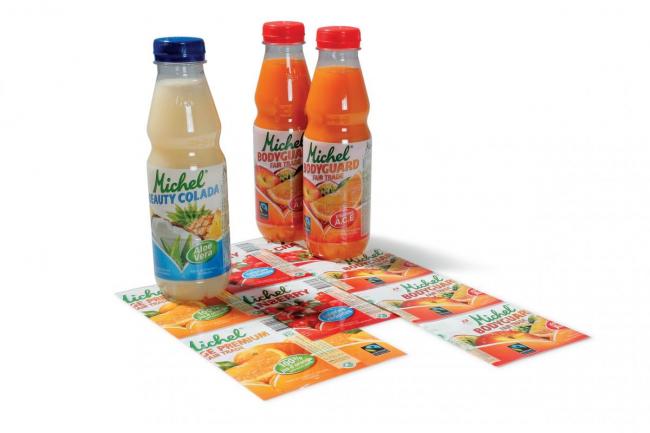 Packaging
From 10µm film to 500µm cardboard: Goebel offers the most efficient and productive solutions for packaging printing for a wide range of high-quality applications.
Goebel supports the packaging printing industry with a unique and innovative offset printing solution: the VSOP 2.0, a new standard in packaging printing, first launched as VARIOMAN together with manroland Goss web systems.
Sustainability, efficiency and highest productivity with an optimal ROI and highest print quality are the main advantages of Goebel's packaging solutions.
Goebel offers high-quality web-fed printing presses such as the Novaprint, Concepta and Alprinta as a brand new release together with the new group member Goebel MMD Maulburg in cooperation with Muller Martini Switzerland.
Goebel stands for printing expertise in flexible packaging and cardboard applications.
Flexible packaging
Flexible packaging printing (shrink sleeves, film packaging, etc.) is done on a web-fed as opposed to a sheet-fed press. 
This web printing machine can use flexography printing, gravure printing, digital printing, offset printing or a combination of technologies.   A lot of flexible packaging printing is done with flexo.
If you have a very short job length (e.g. under 2,000 m2) you may be best off with digital printing.  You have higher cost for the ink, but near zero setup costs.
Flexography and gravure printing can make sense for very long runs.  (e.g. greater than 100,000 m2). 
If your job length is between 2,000 m2 and 100,000 m2, this is a sweet spot for the offset printing press.  Offset printing machines are still efficient with even higher run lengths, but this range is where you have impressive cost advantages.  
With our VSOP technology, you can change jobs in only 10 minutes.  The offset plate making process gives you very low costs (approx. €10 per square meter).  For flexography or rotogravure printing, you are looking at costs 20 x - 40x higher.
Goebel produces printing machines with mostly offset units that deliver high-quality printing results on flexible substrates.
Cardboard packaging
A Goebel packaging printing machine can efficiently print many types of paper and cardboard at the highest quality.  A web fed offset packaging printing machine also has many advantages.
Cardboard (even thick cardboard such as pizza boxes) can  be efficiently printed using web-fed offset presses. The die cutters can be inline which requires much less manpower than a sheetfed option. Web-fed offset combined with EB curing ink using Goebel's VSOP press can print at speeds of over 400 meters per minute. Job changes can be  done cheaply and efficiently in less than 4 minutes.
Tell us about your needs
Please use the below link to give us all the details of your requirements.